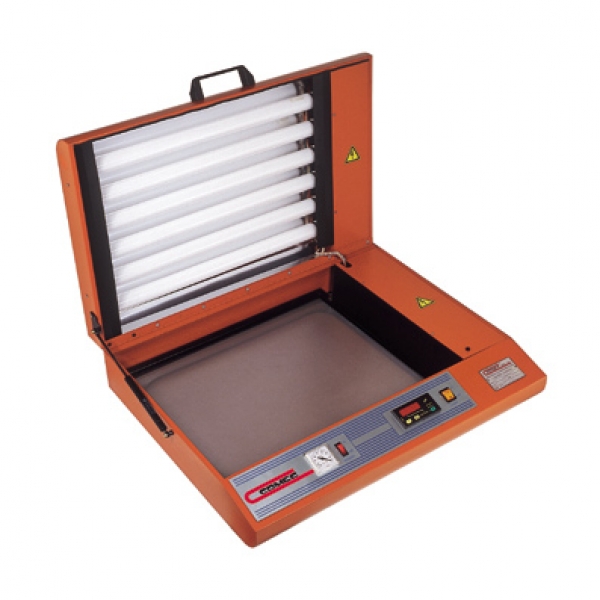 BR 50 M
brochures
BR 50 M
For an easier and more autonomous printing experience, Comec Italia offers to client companies a range of quick developing kit for photopolymer clichés. To engrave clichés in-house saves time and money and allows to have immediately, within minutes, the essential support to start printing a new work, with no downtime and expenses for outside intervention.
Realized with selected materials, the equipment of the BR M series allow to obtain cliché starting from a positive film. The procedure is simple and gives excellent results: in any case, the technicians of Comec Italia are able to assist the customer. All devices are equipped with a sophisticated self-control system which minimizes the possibility of error to guarantee the maximum reliability.
For medium and large productions Comec Italia designed the series BR SV, with the models BR35SV, BR50SV and BR70SV. Unlike manual devices, with this type of photoexposures is possible to perform all the operations to engrave a photopolymer cliché with a single machine, which includes UV exposure chamber with high efficiency vacuum pump, steel developing tank with thermostat and rotating magnetic plane, ventilated hot air drying oven. The models BR50SV and BR70SV are also equipped with additional UV lamps in the oven, for a more rapid drying of the cliché.
All the suppliers needed for the production of clichés (photopolymer plates, development solutions, detergents etc.) are available at Comec Italia.
Electric power supply

220 V 50/60 Hz

Absorption

300 W

Weight

30 Kg

Useful format

500 x 350 mm

UV lamps power

n. 6 x 20 W
| | |
| --- | --- |
| Electric power supply | 220 V 50/60 Hz |
APPLICATIONS